Hot water systems play an important role in our modern lives and there is never an ideal time for your hot water system to stop working.
The expense of replacing your hot water system is usually not budgeted for but rather an emergency expense. The good news is that you there are some basic things you can do to help improve the life of your hot water system.
There are three main aspects of maintaining your hot water system:
The Relief Valve (Known as TPR – Temperature Relief Valve)
The Sacificial Anode
Visual Inspections
The Temperature Relief Valve (TPR)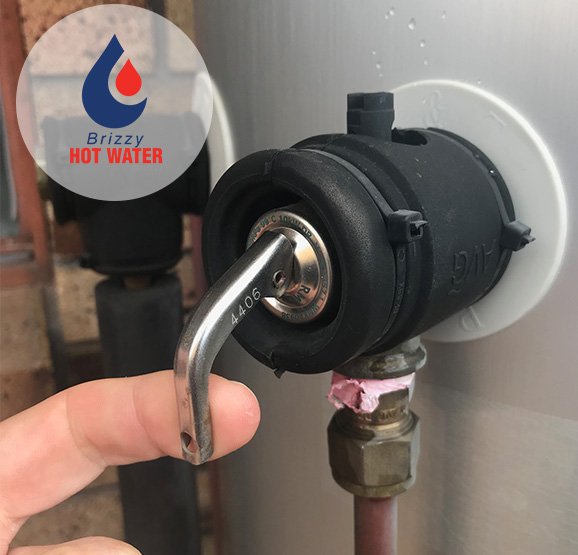 The TPR valves are fitted to hot water tanks as a secondary safety measure. They work by automatically venting out hot water if the temperature or pressure within the tank becomes too great.
If your TPR valve isn't functioning properly it can create a dangerous situation for your hot water tank – including the risk of explosion.
How to test your Relief Valve
At Brizzy Hot Water Services we refer to TPR's as "Easing Gear" because you should not pull on these too hard! To check your TPR valve you simply need to pull GENTLY on the valve lever until water is expelled. Be careful as hot water will come out so protective gloves may be necessary.
What you're looking for when you test your Relief Valve
When you check your TPR valve you are checking for:
Free operation of the valve – that it is not stuck and operates freely
That there are no obstructions preventing it from working and preventing air and water from flowing out
That water eventually flows out – note that some TPR's are plumbed so the water flows away to a drain rather than straight onto the ground
That the flow of water stops when you return it to it's original position
If there is any issue with the above then the valve may need replacing. If you're based in Brisbane then the team at Brizzy Hot Water Services can provide that service to you.
The Sacrificial Anode
The Sacrificial Anode is a metal rod that hangs down inside traditional hot water tanks. At Brizzy Hot Water Services we recommend stainless steel hot water tanks as they don't need a Sacrificial Anode because the tank can't rust.
A Sacrificial Anode is designed to attract impurities and minerals in the water to slow down the build up of rust inside your tank, thus prolonging its lifespan.
Should the Sacrificial Anode be replaced regularly?
Some businesses advise to replace the Sacrificial Anode once every 5 years, however we have found that once you remove the sacrificial anode you are cracking the protective enamel in the top of the system. Usually in the production process the anode is installed before the enameling occurs, so when you remove it, the enamel is broken. This is why most anode style tanks end up leaking from the top.
Our advice is to not remove or replace the anode at all but when the time comes to replace your tank you should consider getting a stainless steel tank to prevent the anode and rust related issues altogether.
Visual Inspections / Maintenance
A basic visual check can be performed by checking for the signs of water at the base of your tank. If there is any sign of leaks then you should contact a professional to evaluate the condition of the storage tank. A leaking tank can increase your hot water bills so it's worth getting it checked out immediately.
There are a variety of other visual inspections that can be performed on hot water systems such as inspecting electrical components for signs of corrosion or failure. These inspections should be performed by a qualified tradesperson. If you're based in Brisbane then the team at Brizzy Hot Water Services can provide that service to you.