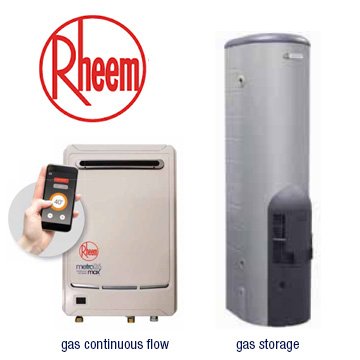 Please call us for an accurate, over the phone price or submit an online quote request. We aim to provide the most affordable solution based on your budget and potential future electricity cost savings.
Gas water heaters make up about 48 percent of water heaters in Australia. The term "gas water heater" includes gas storage water heaters, instantaneous hot water heaters and solar water heaters with instantaneous gas boosting.
We are experienced with all brands of gas hot water including those popular in Australia such as Rheem, Rinnai, Bosch and other brands.
Gas storage water heaters use a gas burner located at the bottom of the water tank to heat the water. These systems run on mains pressure ensuring a strong flow of water and also deliver hot water instantly due to the generous storage.
Gas storage can be a more cost efficient solution than electric hot water systems.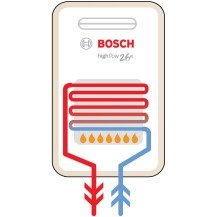 Instantaneous or continuous flow gas hot water systems don't have a storage tank, instead they have a small wall mounted unit that contains a heat exchanger. The water is heated by a gas burner when a hot water tap is turned on. They can be energy and cost efficient because they only heat the water on demand rather than heating and re-heating water that is stored.
Instantaneous systems are ideal for compact home sites or apartments as they take up less room than a normal hot water storage tank.