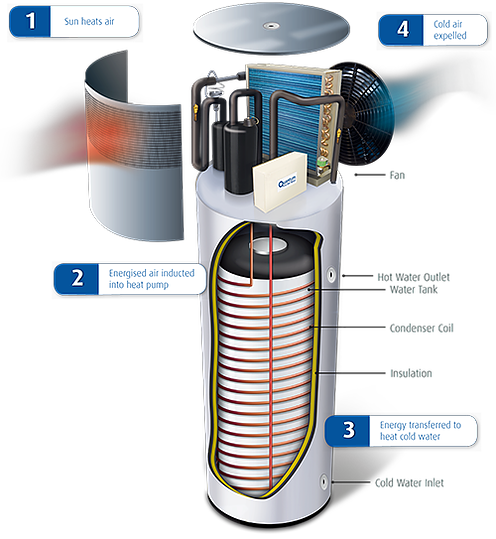 Heat Pump Hot Water Systems are gaining popularity by the day but still many people are unaware of their existence and the benefits to the hip pocket.
Heat Pump Hot Water Systems use heat in the atmosphere and convert it into hot water. Heat Pumps operate in a much more energy efficient manner than the traditional electric hot water systems.
Heat Pumps are included in the federal government's solar rebate scheme which is another sign of the efficiency that this type of system possesses.
Our customer's always give us feedback of the noticeable savings on their electricity bills when switching from traditional electric storage systems to heat pump hot water systems.
When comparing Heat Pumps to traditional roof mounted solar systems we find the heat pump to be a clear winner.
Firstly, roof mounted solar systems are very expensive to install compared to a heat pump. Heat Pumps are mounted on the ground, typically in the same spot your old electric hot water system used to be.
Secondly, roof mounted solar causes all kinds of concerns due to the sheer weight of the tank being mounted on a roof that was never designed to hold that type of weight. We recently witnessed first hand a solar hot water system that had collapsed through the roof of a Brisbane home and landed in a child's bedroom, fortunately no-one was in the bedroom at the time.
Another issue is that access is difficult for roof mounted solar. Even to activate the release valve it is necessary for the plumber to get onto the roof.
Roof mounted solar is also more susceptible to damage from environmental factors due to the position uncovered on the roof, compared to the relatively safe position of a Heat Pump which sits under the eaves.
The team at Brizzy Hot Water Services are industry leaders in knowledge and experience with Heat Pump Hot Water Systems. We have already worked with many leading brands, installing them throughout Brisbane for many happy customers. We know the strengths and weaknesses of each system. Give our friendly customer service team a call today on 1800 136 629 for more info.